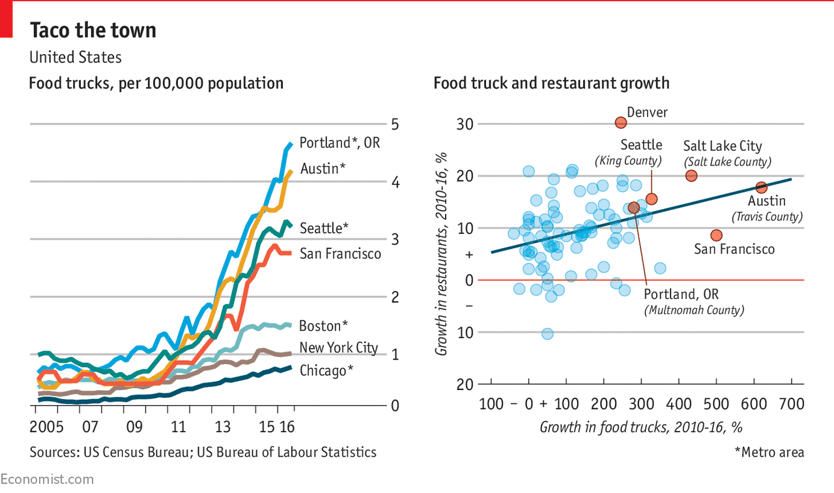 The problem
According to a 2017 report from the Economist, Austin had the fastest-growing food truck industry in the United States at the time, and the second most food trucks per capita in the nation.
To meet this growing demand, Austin Public Health (APH) introduced a streamlined mobile food vendor permit process, so that applicants could submit one application instead of three different applications to three different departments. While this was an improvement, internal politics and systemic procurement and hiring problems continued to affect the business process of reviewing and approving permit applications.
When permit applicants have to wait for long periods of time, a resource many small business owners do not have, the inevitable consequence is a rise in un-permitted food trucks. This is a problem in many U.S. metro areas, and Austin is no exception.
The solution
In 2019, Austin's mobile food business community needed an easier, quicker permit application process. The professionals at Austin Public Health's Environmental Health Services Division had great ideas for improving services. With my team at the City of Austin's Office of Design and Delivery (ODD), I helped redesign a food truck permit guide that improved the applicant experience and saved them time over the permitting process.
User research and service design activities
ODD was composed of two main teams at the time: the Service Design Lab (SDL) and the digital services team. SDL's mission was to partner with service teams across the City of Austin to research and prototype solutions for better service delivery. The digital services team focused on alpha.austin.gov and the content management system that publishes it, Joplin, to meet the needs of Austin residents and City of Austin staff.
SDL began a service design and user research engagement with the Environmental Health Services Division, which took place over six weeks and included:
Discovery and stakeholder mapping
Two research and discovery workshops that led health inspectors and supervisors through identifying needs, mapping processes, and ideating and storyboarding solutions
Permit applicant personas
Service blueprint mapping
Research synthesis and recommendations
Presentation to stakeholders
The head service designer on the project, Chris Luedtke, goes into detail on the work in his portfolio.
As a content strategist embedded in the service design and user research project, I took notes and participated in stakeholder mapping, ideation workshops, and interviews with environmental health officers. I also communicated the recommendations to the digital services team so that we could begin designing a better experience for busy permit applicants.
Prototyping a new content type for alpha.austin.gov: the Guide
Concurrently to the food truck permit project, SDL was also helping the City's Parks and Recreation Department redesign the community garden permit process. With the research and insights from both permitting projects in hand, the digital service team then began to prototype solutions for delivering a better experience on alpha.austin.gov.
Guide design and development
Since the inception of the project to refocus the City of Austin website on the residents we serve, the digital services team knew we would need a content type for every complex service the city offers, many of which are permits.
Service designer Chris Luedtke's streamlined map of the City of Austin's community garden permit process prompted lead designer Tori Breitling to think about the experience of learning all of this complex information as an organized collection of pages with an outline, like an online class. She sketched out a prototype based on the at-a-glance outline found in many online course services. Over the next few sprints, the design and content teams built on that idea, while Tori used my rough draft of the permit content to mock up a prototype in Azure.
User testing the Guide prototype
User researcher, Kristin Taylor, and I tested the prototype of the new guide content with six mobile food vendors from a range of experience levels. They included a vendor who'd been granted a permit within the last year, and the owner-operator of a mobile food business who'd renewed their permits 17 times over 17 years.
The digital services team took the insights from user testing, then incorporated them into design sprints with the content, design, and dev teams, presenting on updates every two weeks to APH stakeholders and other City staff.
Content design and development
Working from drafts former content teammates had developed throughout our work with Austin Public Health, I redesigned the content for the new mobile food vendor permit guide. This involved:
Drafting, fact checking, and editing the mobile food vendor permit guide with health inspectors and supervisors.
Ushering the guide through stakeholder approval and publishing.
Writing a how-to style guide entry for the new content type for Joplin (content management system) users.
Updating staff-requested changes in the new guide as needed.
The result
"This is much easier to navigate." - A food truck vendor based in Austin, reacting to the prototype of the mobile food vendor permit guide redesign